Professional Gas & Oil Water Heater Replacement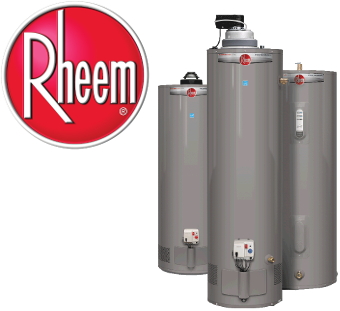 While many water heaters have a long service life in your home, these important pieces of equipment do not last forever. Your water heater works hard day and night to keep your family warm and comfortable from the time you wake up and take a shower, to the time you wash your face and get ready for a good night sleep. When your water heater quits working, the water heater replacement experts at ANC Heating and Air Conditioning are here to help. With over 40 years of experience in replacing water heaters, we have the knowledge and training to offer same day water heater replacement to get your home back to normal. Our warranties on our water heaters are second-to-none to give you peace of mind in knowing ANC will be there in the future should any problems arise.
---
At ANC Heating and Air Conditioning, we give you more ways to save on your water heater replacement! For a limited time, you can save $50 off any of our premium lines of water heaters.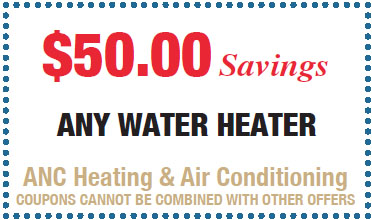 ---
When Do You Need to Replace Your Water Heater?
When your water heater can no longer be repaired or your equipment has become too deteriorated to function as normal, it may be time for a full replacement. Replacing your water heater can ultimately lead to saving you time, money and stress down the road.
Consider these factors in replacing your water heater:
Repair History – Have you been battling costly and time consuming repairs on your hot water heater? Frequent breakdowns are a good indicator that it may be time for a full water heater replacement.
Age – Is your water heater more than 10 years old? Internal corrosions is most likely occurring in your water heater and it's time to consider replacing it with a more efficient, modern model.
Lukewarm Water – Is your water no longer piping hot during your morning shower? There is most likely a malfunction in your water heater and a replacement should be considered.
Rust and Corrosion – Is the base of your water heater starting to become rusty and flakey? It's just a matter of time before your water heater will need to be replaced and it is always better to schedule it out than deal with an untimely breakdown.
Leaks – If you're finding water around the base of your hot water tank, then your water heater has most likely already corroded beyond the ability for a repair.
Sediment in Your Hot Water – If you're noticing cloudiness in the hot water coming out of your tap, then you have sediment issue in your water heater and it is in need of replacement.
While these are only a few of the signs your water heater needs replacement, the best thing you can do is partner with the professional water heater replacement experts at ANC Heating and Air Conditioning for an in-home assessment. We can give you an honest and upfront price on a brand new, worry-free water heater with an industry leading warranty.
Quality Water Heater Replacement You Can Trust
At ANC Heating and Air Conditioning, we're committed to providing our customers with complete satisfaction in the work we perform in their home. This commitment, combined with our highly trained technicians and award winning customer service team, have made us the highest rated plumbing service in the downstate region. Call our office today or fill out the form on this page for a complimentary estimate on your professional water heater replacement.