Quality AC Installation Backed by Industry Leading Warranties
When older AC units breakdown, it may make a lot more sense (and cents!) to replace your old unit rather than invest in additional costly repairs. With huge leaps in technology allowing for even more efficiency each year, newer AC systems will lower your energy bills and keep your home at a more consistent temperature and humidity level. At ANC Heating & Air Conditioning, we've been installing AC units across the Greater Binghamton and Ithaca regions for over 50 years. Our highly trained installation technicians are experts at sizing the proper AC unit for your home and are happy to review any efficiency vs. price point questions you may have. We stand behind every AC system we install with industry leading warranties that allow you sleep easy during those hot summer nights knowing ANC has you covered.
Learn How Our AC Systems Work and How they Benefit Your Health and Your Home
How Do You Know When You Should Replace Your Air Conditioner?
While scheduling regular tune-ups on your AC system can greatly prolong the life of your system, there comes a time where a system replacement may be the best option for your home.
Here are a few signs it may be time to replace your AC system:
Your unit is over 10 years old
Your summer energy bills have been on a slow and steady rise over recent years
The air coming out of your system is no longer cold
Your AC system requires constant, costly repairs
You want to increase your energy savings
Your AC system is no longer keeping your home comfortable
If you relate to any of these signs, it may be time to call ANC Heating & Air Conditioning for a free, no-obligation estimate on installing a new AC system in your home. Newer systems are designed to last over 12 years with proper yearly maintenance, giving you over a decade of worry-free enjoyment from your air conditioner.
We Only Install The Best AC Systems
Don't risk the indoor comfort of your home. For long-lasting performance, install an Amana brand central air conditioning system in your home from ANC Heating and Air Conditioning. Keep your home cool, save energy costs, and enjoy what we believe to be industry-leading warranty protection. Compare the features and benefits of an Amana brand central air conditioning system and you will discover why more and more homeowners choose the Amana brand. To find the highest efficiency air conditioning system for your home, look for the higher SEER numbers.
How Whole House AC Systems Work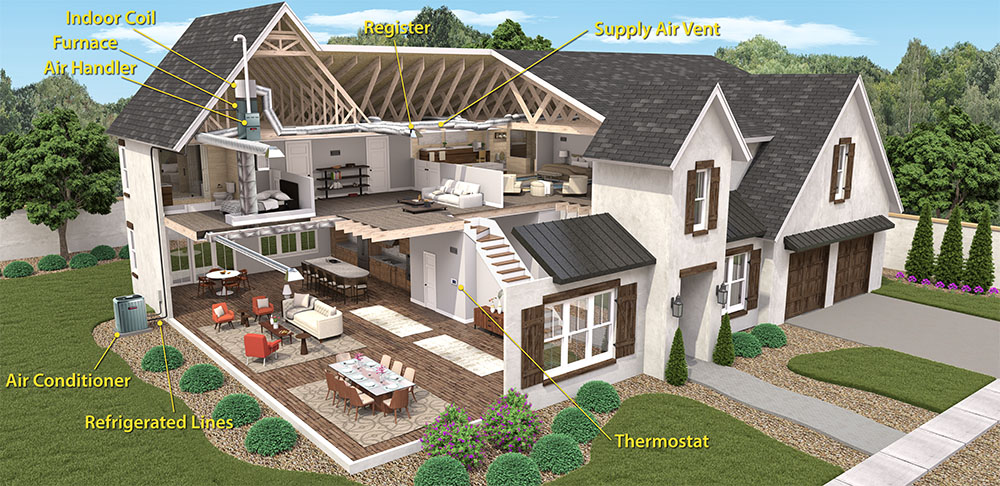 Is it Time to Replace Your AC System? Contact ANC Today!
When it comes time to replace your AC system, call our experts today for an honest, affordable quote. Our highly trained technicians will not only ensure your unit is sized and installed properly, we stand by our installations with 24/7 emergency AC service should an issue arise to give you guaranteed peace-of-mind. In many cases we can offer homeowners next day installation so you can start enjoying cool, humidity free air in your home as soon as possible. Call us today or fill out the request for installation form on this page to schedule your free estimate on a new AC system.