Meet Our New Duct Cleaning Truck
How much does ANC Heating & Air Conditioning care about the health of your home and your family? Enough to invest in New York State's most advanced duct cleaning truck available on the market. From our 250 PSI compressed air lines to our tentacle whips and our Dyna Probe dryer vent cleaning tool, we have the tools onboard to get your ducts spotless and your air perfect and healthy.
When searching online for duct cleaning information around Binghamton NY, you're likely to come across conflicting and misleading information. There is no shortage of unsubstantiated claims regarding the pros and cons of having your ductwork professionally cleaned. There are very specific instances where you'll want to have your ducts cleaned, including rodent infestation, mold growth, or remodeling work performed on your home. Beyond these specific cases, there is evidence that there are very real benefits to having your ductwork cleaned before or after each season.
What Binghamton Duct Cleaning Services Won't Do
1. Significantly Lower Your Energy Cost
One big claim by other duct cleaning services is that you'll see a significant reduction in your energy costs due to better airflow throughout your home. This is simply untrue. Some companies will go even further to insist duct cleaning will make your home more "green" and reduce your carbon footprint. The truth is that only a substantial blockage in your ductwork will cause your HVAC system to operate in a less efficient manner.
2. Cure or Prevent Illness or Sickness
While having the ducts in your Binghamton NY home professionally cleaned will remove bacteria such as mold from your ducts, it will not prevent the spread of viruses and other common causes of sickness. The dust that settles in your air ducts is normally not a threat to the safety of you and your family. The EPA states on its website:
"Duct cleaning has never been shown to actually prevent health problems. Neither do studies conclusively demonstrate that particle (e.g., dust) levels in homes increase because of dirty air ducts."
The most effective way to prevent the spread of illness in your home is to change your HVAC system air filters regularly and have a stand alone or integrated indoor air quality system installed in your home.
3. Make Your Binghamton Home 100% Contaminate-free
While duct cleaning is an effective method of removing dust, mold, and bacteria from your ducts, there are many other ways that contaminants can enter your home. Each time you and your family enters your home, you can track in allergens, bacteria, and particles into your living environment.
In addition, burning wood, candles, cooking, entertaining guests, and other activities can reduce the quality of the air in your home. Having your ductwork cleaned regularly will not prevent you from getting airborne sickness, but will help reduce the risk of molds growing in your ducts which can cause illness over prolonged periods if left untreated.
---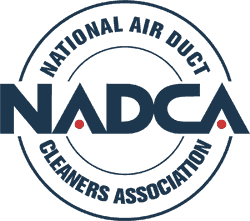 ANC Heating & Air Conditioning is greater Binghamton's only NADCA member. NADCA standards and certification are specified on a regular basis to ensure that HVAC systems are assessed, cleaned, and restored in a safe and efficient manner.
Click here
to learn more about NADCA standards and certifications.
---
What's Hiding in Your Ductwork?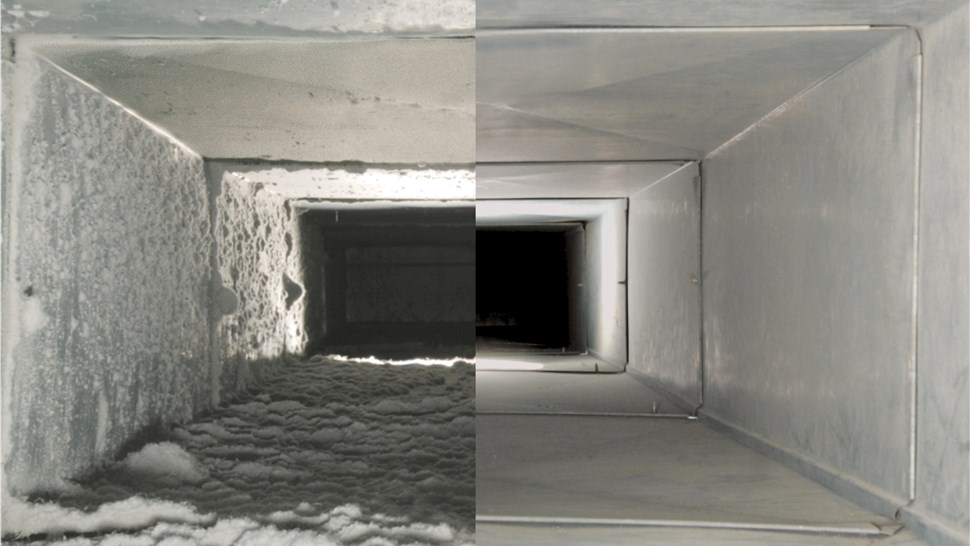 Just as with any part of your Binghamton house, dust, debris and allergens will accumulate in the ductwork of your home. The process of cleaning your duct work is much more complicated than cleaning your rugs or your furniture and specialized equipment is needed to get all the bad stuff out. This is why homeowners across the greater Binghamton and Ithaca regions partner with ANC Heating & Air Conditioning to ensure their ductwork is clean and the air quality in their home is safe and clear. As a BBB-accredited company and the only HVAC company rated #1 28 years in a row by the Readers Choice Awards™, we pride ourselves in our quality air duct cleaning services.
Put Our Over 60 Years of Cleaning Ducts in Binghamton to Work for You!
Since 1963 we've been serving our friends and neighbors with quality HVAC services. Each year we stay educated on the latest duct cleaning technology to get your ductwork looking like the day it was installed, keeping your home free of allergens, dust and dust mites. Our highly trained technicians receive advanced training on all the latest duct cleaning techniques. It's their goal to ensure you and your family enjoy all the benefits of living with clean ducts which include:
Duct Cleaning Increases Energy Efficiency
Your HVAC system doesn't experience as much resistance and doesn't need to work as hard when your ducts are clean. While the efficiency gains are minor, it's a nice value add to all the other great reasons to have your ducts professionally cleaned.
Duct Cleaning Reduces Dirt and Dust in Your Home
Our duct cleaning services, offered to Binghamton NY homeowners, dramatically reduce the amount of debris in your ductwork, leaving your home with cleaner, more pure air. With many Americans being allergic to dust and dander, you'll notice an immediate improvement in your air quality after we complete our service.
Having Your Ducts Cleaned Reduces Odors
Lingering, stale odors may be a result of your dirty ductwork. Our technology eliminates debris that is stuck in your ductwork, eliminating odors. If you've ever been in a home that has a "musty" smell in it, you'll know what we're talking about. More often than not, this smell is due to dirty duct work full of dust and even mold. By having your ducts regularly cleaned, your home will smell fresh and clean throughout the seasons.
Duct Cleaning Reduces Allergens
If you or your family suffers from allergens, it may not be the outside air, it could be your ductwork. It's bad enough to be sneezing and coughing outside during allergy season, no one wants to suffer in their own home. A professional and thorough cleaning of your ductwork will dramatically reduce the allergen triggers that are hiding in your ductwork.
Duct Cleaning Reduces the Risk of Fire Hazard in Your Home
Did you know that 5% of house fires are the result of dirty air ducts? Think of the dust and hair that gathers in dirty ducts as having very similar properties to the lint in your dryer. If you know anything about dryer lint, you'll know that it is EXTREMELY flammable and highly combustible. Our duct cleaning service rids your ducts of years of built-up debris in your air ducts to make your home safer for you and your family.
The ANC Guarantee
Duct cleaning not only eliminates the dust, dirt, mold, bacteria in a system…. Duct cleaning Lowers your utility bills...proven in writing! Commercial Building Owners, let us show how we can drastically lower your heating and cooling costs by drastically increasing your air flow. We guarantee at least a 10% increase in performance or your money back.
Signs You Should Have Your Ductwork Cleaned
Are you wondering if duct cleaning would benefit your home and your family? Below are a few telltale signs you're overdue for a duct cleaning:
Do you have pets? Pets are a big reason to justify yearly duct cleaning
Does anyone living in your house suffer from asthma, allergies or other respiratory problems?
Are you regularly cleaning large accumulations of dust off your furniture?
Are you experiencing nausea, headaches or a burning sensation in your nose, eyes or throat while in your home?
Is your furnace filter needing to be changed more than once a year?
ANC Duct Cleaning Reviews From Google
I decided to have a full air-duct cleaning in my house and to use ANC for this important service. I selected ANC because I like supporting local companies and they were highly recommended. When I contacted them to set up a first appointment for a quote, the staff at the other end of the phone line was extremely courteous and friendly. Ryan came to my house very punctually and was very clear and friendly. He prepared the quote right at my house with his tablet. No delays. My appointment was then set up promptly. The air-duct cleaning was performed by Braden and his assistant Tyler. They arrived punctually early in the morning; they introduced themselves very politely; and started to work right away. A regular duct cleaning is supposed to last four or five hours. Braden, with Tyler's assistance, performed an amazing job, and carefully cleaned all the ducts and disinfected and cleaned all the removed vents. Mid-way through the various operations, Braden discovered that two of my ducts where completely blocked by insulating materials that had been accidentally blown in. This was a very stressful situation for me, but Braden reassured me that they would unblock and clean those two ducts perfectly, too. Braden and Tyler stayed until 6:00pm to finish this work. Following the advice of the ANC owner, Lloyd, who kindly stopped by my house to check the situation first-hand, they were able to unblock the ducts and perfectly clean them. They didn't even take a lunch break during all those long hours. I have been extremely happy with their work and with the attention that I received from everyone. I highly recommend ANC for your HVAC needs. They are very knowledgeable, kind, and they'll listen to your needs. And, yes, if you have air-ducts, you should have them cleaned by ANC! Thank you!

Sabina Perrino
Binghamton NY
The gentleman who came where lovely explained all the details of their work ...were through..showed us pictures of the before and after duct cleaning...it was impressive the time they took to get it all done. We have a large house with 20 some ducts...we would highly recommend their work... thank you again.

The staff is very nice and helpful!!! The gentleman that came out to give us a free quote on how much it would be was very nice. Husband and I move in this house3-4 years ago. We decided to get our duct work clean and sanitize. Thank God because the 2 gentleman that were cleaning the vents saw 2 dead mice. Yuck.... Also we purchased I Wave purify the air. The gentleman put that in for us..The machine goes on when the furnace or air conditioning goes on. For pollen, mold and smell etc. Thank you all again!!

Wendy Schlehr
Endicott NY
Read More of our Google Reviews!
Duct Cleaning FAQ
---
Are there any health benefits from having my ducts cleaned?
Yes, there are many health benefits you and your family will enjoy from having your ducts cleaned seasonally. With a forced hot air HVAC system, there are many contaminates your duct work can collect over time that can impact your health. Fungi, mold, bacteria, dust, and dust mites can all trigger asthma, allergies, and other health problems as they circulate around your Binghamton home. The removal of these contaminates by a professional duct cleaning service allows for healthy, contaminate-free air to flow freely throughout your home.
Is it necessary to hire a professional to clean my ducts or can I do it myself?
There are many benefits to hiring a professional duct cleaning service near Binghamton, NY that has invested in the tools, technology, and training to properly clean the ducts in your home. The average homeowner lacks the proper equipment to clean their ducts in a manner that will benefit their home and their health. At ANC Heating and Air Conditioning, we follow NADCA guidelines to ensure a healthy, clean home. This includes cleaning the following components of your HVAC system:
Air Ducts
Coils
Drain Pan
Grills
Plenum
Blower Assembly and Motor
Heat Exchanger
Filters
Air Cleaner
How often should I get the air ducts cleaned in my Binghamton Home?
The NADCA (National Air Duct Cleaners Association) recommends you have your air ducts professionally cleaned every three to five years. There are, however, instances where a homeowner may want to consider a more frequent cleaning. These include:
A mold event in your home such as a leak
Indoor smokers in the home
Shedding pets with high levels of dander
Post remodel or renovation
After a new home purchase
Residents who routinely suffer from asthma or allergies
How Do I Find a Good Duct Cleaning Service Near Me?
It's important to note that not all duct cleaning services are the same. Some duct cleaning services use outdated equipment that leave your ducts less than adequately clean, and some even use equipment that release dust, dander, and allergens into your home during the process. At ANC Heating and Air Conditioning, we've invested in a top-of-the-line fleet of air duct cleaning vehicles with the latest technology and equipment to remove 99.9% of contaminants in your duct work. We always have a truck on the road near your Binghamton home, ready to get the job done. By contracting with us, you'll need to have your duct work cleaned less frequently which puts money back into your pocket. When searching for duct cleaning services near you, get an estimate from ANC first, and know that your ducts will be clean, healthy, and odor free for years to come.
How long does the air duct cleaning process take?
An average sized home (2,200 sqft) takes our duct cleaning technicians roughly 3-5 hours. There are instances where it may take them a little longer which includes the size of the home, the number of HVAC systems in your home, the level of contamination in your air ducts, and the number of technicians on the job If you are looking for an accurate estimate, fill out the form on this page and we'll get back to you with a detailed duct cleaning estimate.
How do I know my ducts are clean after the technicians are finished?
After we finish every job, we show every Binghamton homeowner before and after pictures from inside your duct work. Our customers are amazed at the amount dust and contaminants our systems are able to remove from their air ducts. Below you'll see an actual before and after image from a duct cleaning job completed by ANC Heating & Air Conditioning.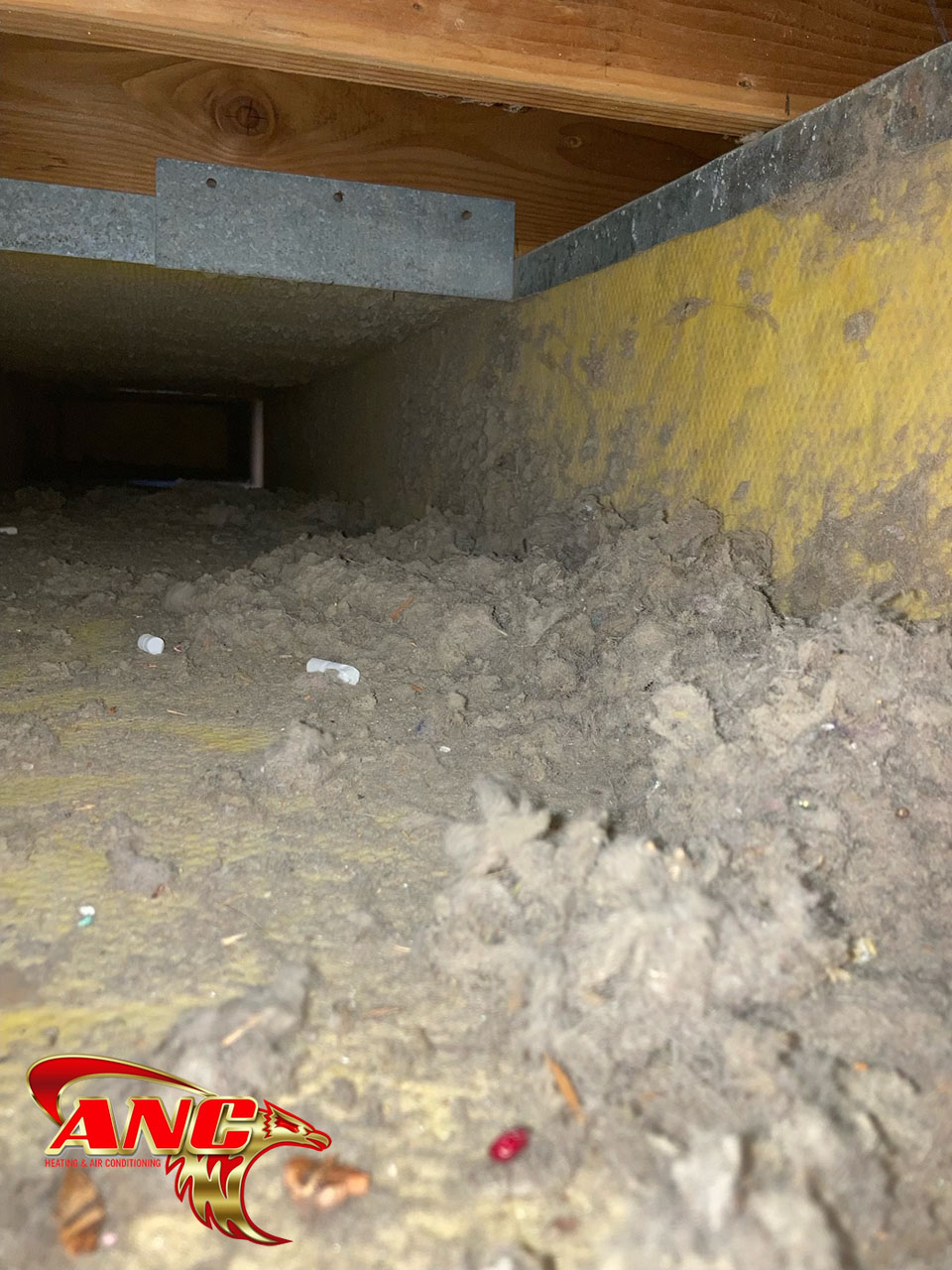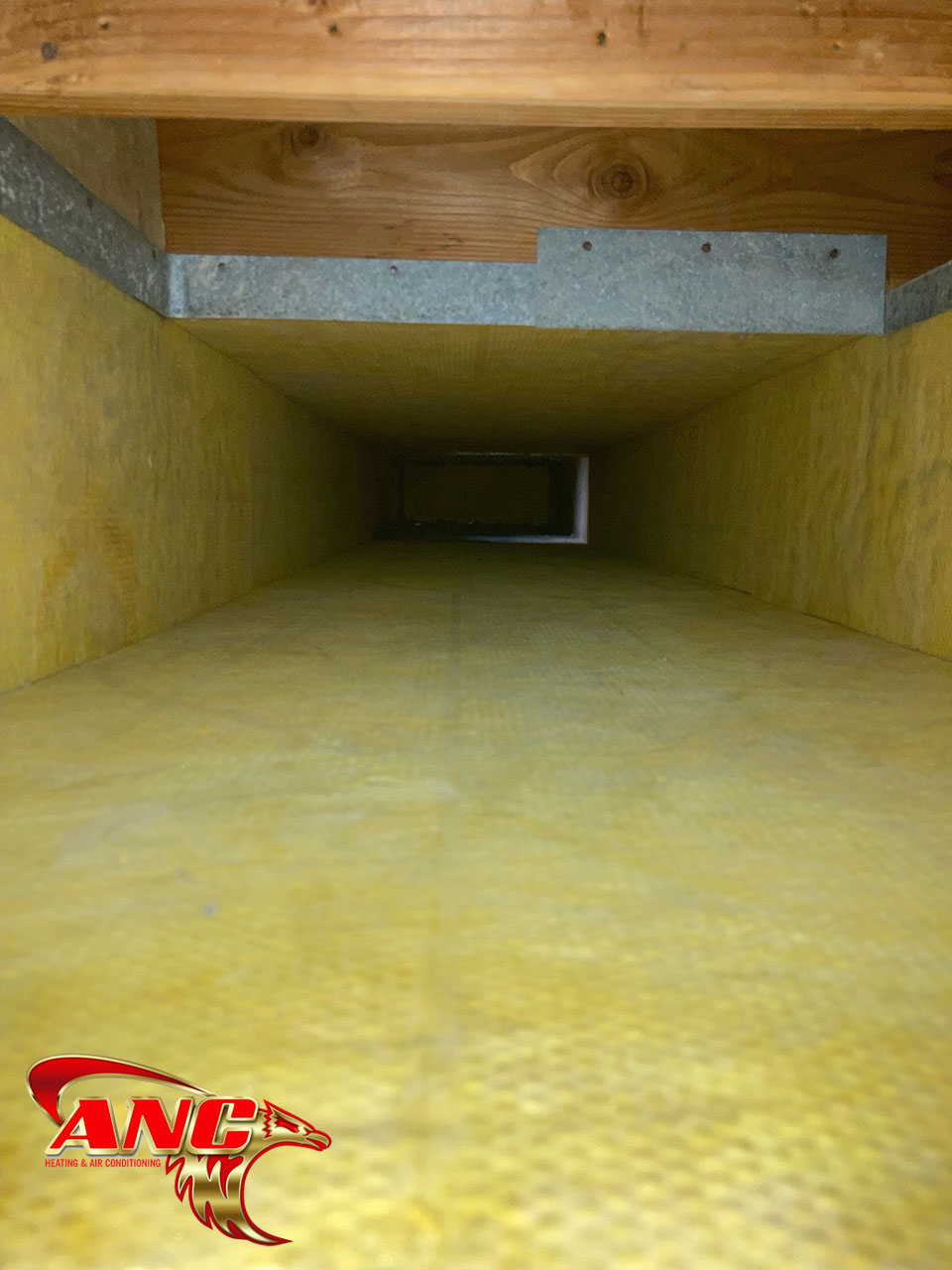 What separates your service from Other Duct Cleaning Services in Binghamton?
The EPA cautions that "An inadequate vacuum collection system can release more dust, dirt and other contaminates than if you had simply left the ducts alone". It is for this reason that we've invested in the most advanced vacuum system available in the duct cleaning market. This ensures all mold, dust, dust mites, allergens, and other contaminates are vacuumed directly into our collection system outside your home, and not released into the air inside your home. Below you can see our all-new, state-of-the-art duct cleaning truck below as it makes its way back to our Binghamton facility from our west coast manufacturer.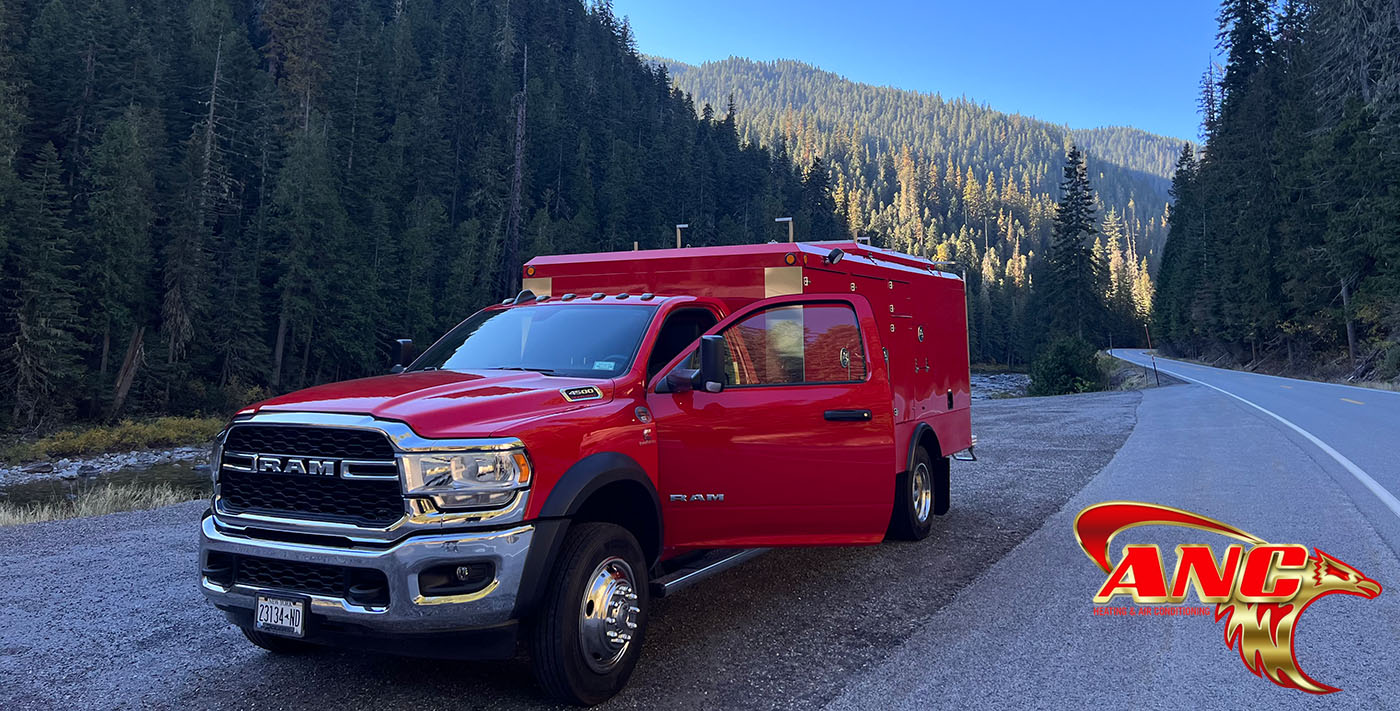 At ANC Heating & Air Conditioning, we've invested in state-of-the-art air duct cleaning technology. Our latest duct cleaning truck was custom manufactured by American Caddy Vac, a USA manufacturer who puts out the best duct cleaning equipment in the market. Our trucks utilize the Dyna-Probe, combining high pressure air washing with high velocity spinning capabilities that guarantee you we'll leave your job with your ducts looking like the day they did when they were first installed. This technology works with the smallest of vents, up to commercial sized vents to create what we like to call, "The perfect cleaning tsunami".
American Caddy Vac is also knowing for being the most powerful cleaning unit on the market. This added power allows your air duct cleaning technician to move dislodged debris and dust from your duct work faster than the competition, saving you time and money. Our trucks have up to 5x the suction power of our Binghamton air duct cleaning competitors, which means more time between scheduling your duct cleaning service, and less allergens and contaminates in your home.
Neighborhoods We Clean Ducts in Near Binghamton NY
At ANC Heating & Air Conditioning, we pride ourselves on always having a duct cleaning truck on standby to visit your home and provide the cleanest, healthiest ducts to keep your home free from allergies and mold spores. Below is a list of neighborhoods in greater Binghamton that we're proud to serve:
Barker, NY
Binghamton, NY
Chenango, NY
Colesville, NY
Conklin, NY
Dickinson, NY
Fenton, NY
Kirkwood, NY
Lisle, NY
Maine, NY
Nanticoke, NY
Sanford, NY
Triangle, NY
Union, NY
Vestal, NY
Windsor, NY
Deposit, NY
Endicott, NY
Johnson City, NY
Lisle, NY
Port Dickinson, NY
Whitney Point, NY
Windsor, NY
Call ANC and get Clean, Pure Air in Your Home
Don't put off having the ducts in your Binghamton NY home cleaned any longer. Trust the professionals at ANC Heating & Air Conditioning to make your home cleaner, safer and healthier. Fill out the form on this page or call us today to schedule your professional duct work cleaning.